Midnight Crystal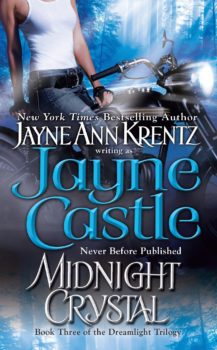 Arcane Society
Dreamlight Trilogy #3
Ghost Hunters #7
Harmony
Originally Published August 31, 2010
Paperback, Audio, e-Book
For many earthly centuries, a legendary curse has plagued the Winters family, stemming from the tumultuous founding of the Arcane Society. But now, on the futuristic world of Harmony, the curse's final mystery will be unraveled…
Adam Winters has enough responsibility as the new head of the local Ghost Hunter Guild without being saddled with the family curse. He's convinced his recent nightmares and hallucinations will lead to him becoming a psychic rogue—unless he can find a stolen relic and a woman who can read dreamlight.
Marlowe Jones rides into his life on a motorcycle and with a dust bunny at her side. Though a descendant of the rival Arcane family, she's just what Adam needs: a psychic private investigator and dreamlight reader extraordinaire.
Together, amid the glowing catacombs and steamy underground jungles of Harmony, Adam and Marlowe must break the curse, save the entire underworld—and fight a passion that could destroy them both…
* This site contains affiliate links to products. We may receive a commission for purchases made through these links. Specifically, this site is a participant in the Amazon Services LLC Associates Program, an affiliate advertising program designed to provide a means for website owners to earn advertising fees by advertising and linking to amazon.com, audible.com, and any other website that may be affiliated with Amazon Service LLC Associates Program.