Canyons of Night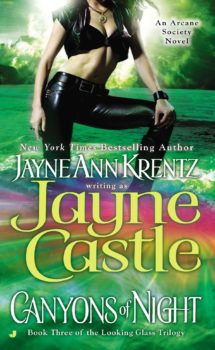 Arcane Society
Ghost Hunters #8
Harmony
Looking Glass Trilogy #3
Rainshadow
Originally Published August 30, 2011
Paperback
There are as many mysteries aboveground on the world of Harmony as there are underground. The island of Rainshadow is the setting for one of the greatest of those secrets: the privately owned woods known only as the Preserve…
Growing up on Rainshadow, Charlotte Enright knew better than to ever go into the Preserve, until that one fateful night with Slade Attridge — a night neither of them would forget.
Now, fifteen years later, both have returned to the island: Charlotte to take over her late aunt's antiques shop and Slade to fill the police chief's position. Able to read auras, Charlotte senses something amiss in Slade, but that doesn't stop her from wanting him — again. That is, as long as his dust bunny "deputy" keeps his paws off her merchandise.
Hiding a psi injury, Slade is afraid of his powerful desire for Charlotte. But a series of increasingly violent crimes draws them closer together — and into the darkness at the heart of the Preserve…
* This site contains affiliate links to products. We may receive a commission for purchases made through these links. Specifically, this site is a participant in the Amazon Services LLC Associates Program, an affiliate advertising program designed to provide a means for website owners to earn advertising fees by advertising and linking to amazon.com, audible.com, and any other website that may be affiliated with Amazon Service LLC Associates Program.