Siren's Call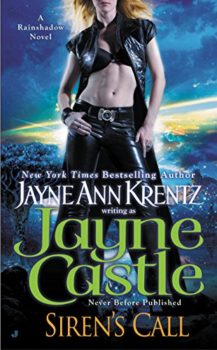 Ghost Hunters
Harmony
Rainshadow #4
Originally Published July 28, 2015
Paperback, e-Book
In the mysterious world of Harmony, there are places filled with unexplored marvels. But Rainshadow Island isn't about to give up its secrets…
In the alien catacombs of Rainshadow, there are creatures whose compelling songs lure the unwary to their death. That's why Rafe Coppersmith, hired to clear out the catacombs for exploration, needs a music talent. He knows the perfect one, but she probably doesn't want anything do with him…
Ella Morgan had once fallen hard and fast for Rafe, but then he disappeared for months…and he's not about to tell her why. Ella, too, has secrets that only her dust bunny knows. She's not just a music talent, she's a Siren: a paranormal singer capable of singing men to sleep—or to their deaths.
But once on Rainshadow, Rafe and Ella will learn that surrendering to passion doesn't come without risks—and fighting fire with fire only adds to the flame…
* This site contains affiliate links to products. We may receive a commission for purchases made through these links. Specifically, this site is a participant in the Amazon Services LLC Associates Program, an affiliate advertising program designed to provide a means for website owners to earn advertising fees by advertising and linking to amazon.com, audible.com, and any other website that may be affiliated with Amazon Service LLC Associates Program.