White Lies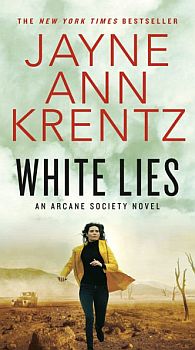 Arcane Society
Originally Published January 23, 2007
Recently published February 5, 2008
Paperback, e-Book
Petite, thirtysomething Clare Lancaster is a Level Ten para-sensitive—and a "human lie detector." Over the years, she's come to accept that someone with her extraordinary talents is likely to have trouble in the relationship department. And she's even resigned herself to the fact that everyone, to one degree or another, hides behind a facade. . . .
And now it seems that meeting the half sister and family whom she never knew until seven months ago was a mistake. Her father summons her from California to play a role in his business empire, and Clare doesn't intend on making the same mistake twice. But after meeting Jake Salter, Archer Lancaster's "financial consultant," Clare is convinced that things aren't what they seem. Salter's careful conversation seems to walk a delicate line between truth and deception, revealing and resisting.
Something sparks and sizzles between them—something more than the usual electricity between a man and a woman.
Caught in a dizzying storm of secrets, lies, and half-truths, Jake and Clare will plunge into an investigation that demands every bit of their special gifts—together they must overcome their mutual distrust in order to unravel a web of conspiracy and murder.
Originally published January 2007 in hardcover by Putnam.
* This site contains affiliate links to products. We may receive a commission for purchases made through these links. Specifically, this site is a participant in the Amazon Services LLC Associates Program, an affiliate advertising program designed to provide a means for website owners to earn advertising fees by advertising and linking to amazon.com, audible.com, and any other website that may be affiliated with Amazon Service LLC Associates Program.