Burning Lamp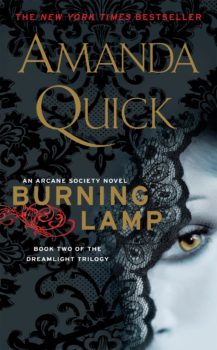 Arcane Society
Dreamlight Trilogy #2
Originally Published April 20, 2010
Recently published March 29, 2011
Hardcover, Paperback, Audio, e-Book
In this second novel of the Dreamlight Trilogy from New York Times-bestselling author Amanda Quick, psychic power and passion collide as a legendary curse comes to a burn…
The Arcane Society was born in turmoil when the friendship of its two founders evolved into a fierce rivalry. Sylvester Jones and Nicholas Winters each sought to enhance their individual psychic talents. Winters' efforts led to the creation of a device of unknown powers called the Burning Lamp. Each generation the Winters man who inherits it is destined to develop multiple talents—and the curse of madness.
Plagued by hallucinations and nightmares, notorious crime lord Griffin Winters is convinced he has been struck with the Winters Curse. And the instincts that have helped him survive the streets and rise to power are now drawing him toward Adelaide Pyne, the bothersome social reformer. But even as he arranges a meeting with the mysterious woman, he has no idea how closely their fates are bound, for Adelaide holds the Burning Lamp in her possession.
A dreamlight reader, Adelaide should be able to manipulate the Lamp's light to save both Griffin's sanity and his life. But their dangerous psychical experiment makes them the target of forces both inside and outside of the Arcane Society. And though desire strengthens their power their different lives will keep them apart—if death doesn't take them together.
"Exhilarating…fans will relish this superb thriller."—Midwest Book Review

"A top-notch performance."—Publishers Weekly (starred review)
 
"A mysterious journey fraught with fascinating labyrinths and startling twists which keep her readers on the edge of their seats."—AssociatedContent.com
 
"Another 24-karat read from one of the genre's best…Match[es] a delightfully sharp-witted and sharp-tongued heroine with a deliciously dark and sexy hero."—Booklist
 
"[A] paranormal sizzler…With quirky humor and typical flair, Quick has penned another riveting, fast-paced adventure."—Library Journal
* This site contains affiliate links to products. We may receive a commission for purchases made through these links. Specifically, this site is a participant in the Amazon Services LLC Associates Program, an affiliate advertising program designed to provide a means for website owners to earn advertising fees by advertising and linking to amazon.com, audible.com, and any other website that may be affiliated with Amazon Service LLC Associates Program.