The Hot Zone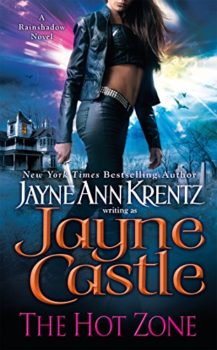 Ghost Hunters
Harmony
Rainshadow #3
Originally Published August 26, 2014
Paperback, e-Book
The world of Harmony has its wonders, one of them being Rainshadow Island.
Just beneath its surface, a maze of catacombs hides a dangerous secret…
Halloween—with its tricks and treats—is a dust bunny's dream come true. Just ask Lyle, Sedona Snow's faithful sidekick. But for Sedona, it's a nightmare. Though her new job managing a small hotel and tavern on Rainshadow is helping her move on from her tragic past, a bizarre disaster down in the catacombs has brought a pack of rowdy ghost hunters to her inn.
And now, Sedona's ex has arrived on the island, claiming he wants to get back together, just as a newcomer appears to have a strong interest in her. Cyrus Jones is the new Guild boss in town. He has his own agenda when it comes to Sedona, but even the best-laid plans are no match for the passion that springs up on Rainshadow…
* This site contains affiliate links to products. We may receive a commission for purchases made through these links. Specifically, this site is a participant in the Amazon Services LLC Associates Program, an affiliate advertising program designed to provide a means for website owners to earn advertising fees by advertising and linking to amazon.com, audible.com, and any other website that may be affiliated with Amazon Service LLC Associates Program.