Bridal Jitters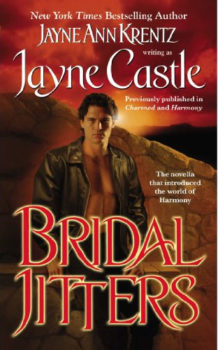 Harmony
Originally Published October 1, 1999
Recently published August 6, 2013
A Penguin Special for Jove Paperback, e-Book
The novella that introduced the world of Harmony.
Just below the City of Cadence lie the remains of the Dead City of Old Cadence—resonating with the psychic and para energy of its dead souls. While exploring the darkest depths of the city, two business partners discover passions within each other that are very much alive…
Virginia Burch, a psychic archeologist, can't believe her luck when she meets Sam Gage, a ghost-hunter and owner of prime real estate in the Old Quarters of Cadence, above the Dead City. He offers her his space to live and start up her business. What follows is an even more intriguing proposal—to become his wife. Strictly for professional reasons, of course…
Their marriage of convenience would lead to a very lucrative business partnership, Gage & Burch Consulting. Until something throws a wrench into the plan: the undeniable sensual energy that naturally exists between them—and a love so strong it could wake the ghosts below…
Includes a preview of the next Rainshadow Novel, Deception Cove.
Originally published September 1999 as a novella in the CHARMED anthology, July 2002 in the 2-in-1 HARMONY and then October 2005 as a stand-alone novella by Berkley.
* This site contains affiliate links to products. We may receive a commission for purchases made through these links. Specifically, this site is a participant in the Amazon Services LLC Associates Program, an affiliate advertising program designed to provide a means for website owners to earn advertising fees by advertising and linking to amazon.com, audible.com, and any other website that may be affiliated with Amazon Service LLC Associates Program.