Deception Cove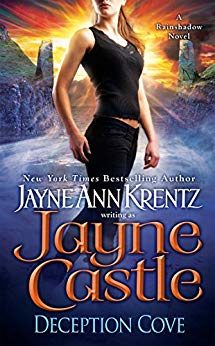 Ghost Hunters
Harmony
Rainshadow #2
Originally Published August 27, 2013
Paperback, e-Book
In the world of Harmony, Rainshadow Island is home to a mysterious preserve, secrets that have been kept for centuries, and a treasure worth killing for…
As a light-talent, Alice North has the rare ability to make things disappear, including herself—a gift that comes in handy during her magic act with her dust bunny Houdini.
Business mogul Drake Sebastian is day-blind, since his sight was nearly destroyed in a lab accident. But he's the one man who can see Alice when she disappears—and he needs her.
On Rainshadow Island, two dangerous Old World crystals are missing, igniting a paranormal storm. Drake thinks Alice is the key to finding them, and proposes they head there, but only after a Marriage of Convenience.
Alice's honeymoon on Rainshadow is guaranteed to be memorable, as the island—and the passion between her and Drake—is about to explode…
* This site contains affiliate links to products. We may receive a commission for purchases made through these links. Specifically, this site is a participant in the Amazon Services LLC Associates Program, an affiliate advertising program designed to provide a means for website owners to earn advertising fees by advertising and linking to amazon.com, audible.com, and any other website that may be affiliated with Amazon Service LLC Associates Program.