The Lost Night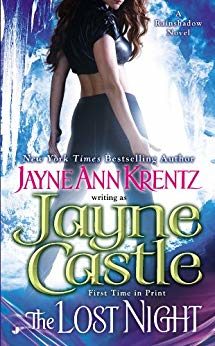 Ghost Hunters
Harmony
Rainshadow #1
Originally Published September 4, 2012
Paperback
Even the mysterious world of Harmony has people who don't quite fit in. They're drawn to places like Rainshadow Island, a beautiful sanctuary where anyone can feel safe—and where secrets are closely guarded…
Schooled in an exotic form of martial arts, and with the ability to detect the auras of dangerous psychic criminals, Rachel Bonner and her dust bunny companion have found peace and quiet on Rainshadow Island, operating a bookstore and café.
But her tranquil new life is thrown into chaos when Harry Sebastian, the descendant of a notorious pirate, arrives to investigate strange developments in the privately owned woods known as the Preserve.
Immediately drawn to the amber-eyed woman, Harry must tread carefully. While Rachel's special talents can help him track down dangerous rogues who have violated the Preserve, they can also sense the heart of darkness within him. But desire can weaken the strongest of defenses—and leave even the strongest man wanting more…
* This site contains affiliate links to products. We may receive a commission for purchases made through these links. Specifically, this site is a participant in the Amazon Services LLC Associates Program, an affiliate advertising program designed to provide a means for website owners to earn advertising fees by advertising and linking to amazon.com, audible.com, and any other website that may be affiliated with Amazon Service LLC Associates Program.