Running Hot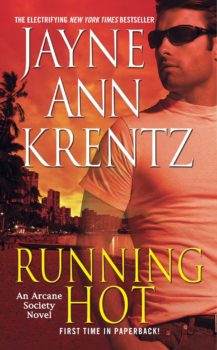 Arcane Society
Originally Published December 30, 2008
Recently published December 29, 2009
Hardcover, Paperback, Audio, e-Book
Ex-cop Luther Malone, lifelong member of the secretive paranormal organization known as the Arcane Society, is waiting to meet Grace Renquist. Hired as an aura-reading consultant in the quest for a murder suspect, she's got zero field experience. She's from tiny Eclipse Bay, Oregon. She's a librarian, for heaven's sake.
As for Grace, she's not expecting much either from Malone, who walks with a cane and isn't so good with a gun. Nice résumé for a bodyguard . . .
But even before they reach their hotel in Maui—where they'll be posing as honeymooners—Grace and Luther feel the electric charge between them. Problem is, they need to remain vigilant day and night, because it soon becomes clear there's more going on here. Rogue sensitives—operatives for the underground group Nightshade—are pouring into the luxury resort like there's a convention. Grace recognizes those dark spikes in their auras. She saw the same pattern in someone else in another life—a life she hasn't revealed to Luther or anyone else. And she understands how dangerous these people can be . . . especially with those para-hunters at their sides.
While the pair's employers at Jones & Jones scramble to get them backup, Luther and Grace have to think on their feet. The criminals in their midst aren't just high-level sensitives: They've enhanced their talents with a potent—and unpredictable— drug. And as Grace knows all too well, if you don't control your powers, your powers will control you. . . .
* This site contains affiliate links to products. We may receive a commission for purchases made through these links. Specifically, this site is a participant in the Amazon Services LLC Associates Program, an affiliate advertising program designed to provide a means for website owners to earn advertising fees by advertising and linking to amazon.com, audible.com, and any other website that may be affiliated with Amazon Service LLC Associates Program.