The Third Circle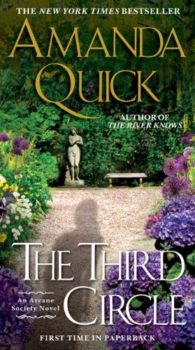 Arcane Society
Originally Published April 22, 2008
Recently published April 15, 2009
Hardcover, Paperback, e-Book
Leona Hewitt has secretly made her way into Lord Delbridge's private museum to retrieve a relic stolen from her family. But someone else is in the dimly lit gallery on the same errand: a tall, black cloaked man whose very voice is enough to cause her to fall into a trance.
Thaddeus Ware, a mesmerist with psychic gifts, is accustomed to fearful reactions from others—women, in particular. After all, a man who can control the minds of others could rob a lady of her virtue—completely unbeknownst to her. But Leona shows no trace of hysteria in his presence. A gifted crystal worker, she exerts a rather hypnotic power over the hypnotist himself. And she is determined to keep the coveted crystal they manage to recover by giving him the slip at a run-down London inn.
Thaddeus, on assignment for the Arcane Society, knows the menace Leona is courting by absconding with the crystal. A source of remarkable energy, it holds the potential for great destruction. Lord Delbridge has already killed to acquire the crystal, his key to membership in the elite, shadowy group known as the Third Circle. And, with the help of a ruthless hunter of preternatural skill—dubbed the Midnight Monster by the press—Delbridge intends to find Leona. With the stolen crystal in their possession, the danger is only beginning.
* This site contains affiliate links to products. We may receive a commission for purchases made through these links. Specifically, this site is a participant in the Amazon Services LLC Associates Program, an affiliate advertising program designed to provide a means for website owners to earn advertising fees by advertising and linking to amazon.com, audible.com, and any other website that may be affiliated with Amazon Service LLC Associates Program.