Quicksilver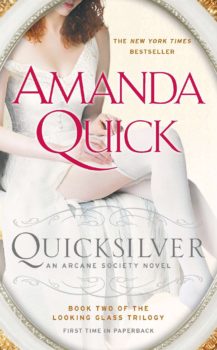 Arcane Society
Looking Glass Trilogy #2
Originally Published April 19, 2011
Recently published March 27, 2012
Hardcover, Paperback, Audio, e-Book
A Victorian glass-reader and a psychic investigator play a deadly game of cat-and-mouse with a killer determined to trap them in the second installment of the New York Times bestselling Looking Glass Trilogy.
Virginia Dean wakes at midnight beside a dead body, with a bloody knife in her hand and no memory of the evening's events. Dark energy, emanating from the mirrors lining the room, overpowers her senses. With no apparent way in or out, she is rescued by a man she has met only once before, but won't soon forget….
Owen Sweetwater inherited his family's talent for hunting the psychical monsters who prey on London's women and children, and his investigation into the deaths of two glass-readers has led him here. The high-society types of the exclusive Arcane Society would consider her an illusionist, a charlatan, even a criminal, but Owen knows better. Virginia's powers are real — and they just might be the key to solving this challenging case.
* This site contains affiliate links to products. We may receive a commission for purchases made through these links. Specifically, this site is a participant in the Amazon Services LLC Associates Program, an affiliate advertising program designed to provide a means for website owners to earn advertising fees by advertising and linking to amazon.com, audible.com, and any other website that may be affiliated with Amazon Service LLC Associates Program.