The Wedding Night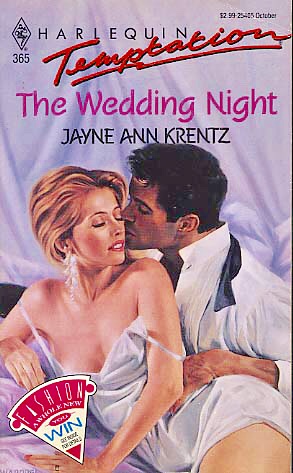 Harlequin Temptation #365
Originally Published September 3, 1991
Recently published December 1, 2001
Mira Paperback
Out of Print
He was tall, dark and eligible…
Hotel magnate Owen Sutherland was the last man Angie Townsend expected to marry. After all, his family had been feuding with hers for years. But in three short months, Owen convinced her to be his wife. Angie loved him . . . or so she thought.
On her wedding night it became clear that Owen's motives were questionable. The ardent bridegroom was eager to consummate their union–but even more eager to consummate a merger between the battling Sutherland and Townsend hotel empires. Feeling used and betrayed, Angie declared war. The conjugal bed was oft-limits until Owen proved he married her for all the right reasons!
* This site contains affiliate links to products. We may receive a commission for purchases made through these links. Specifically, this site is a participant in the Amazon Services LLC Associates Program, an affiliate advertising program designed to provide a means for website owners to earn advertising fees by advertising and linking to amazon.com, audible.com, and any other website that may be affiliated with Amazon Service LLC Associates Program.