The Family Way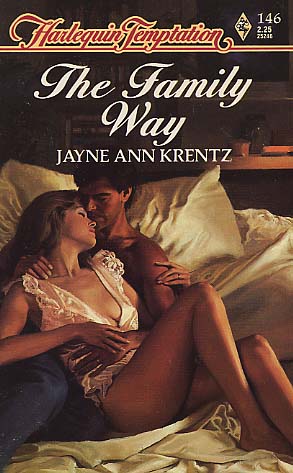 Harlequin Temptation #147
Originally Published February 3, 1987
Recently published July 1, 1999
Harlequin Paperback
Out of Print
They'd created a new life . . . together
Having a baby was supposed to be a joyous occasion, but Pru Kenyon wasn't smiling. True, her relationship with live-in love Case McCord was both electrifying and deeply satisfying. But she didn't have the benefit of a ring on her finger .. . .
Pru wasn't about to force Case's hand by revealing her secret. She knew he'd propose out of a sense of duty, rather than love. And if she couldn't have his love, she didn't want him!
* This site contains affiliate links to products. We may receive a commission for purchases made through these links. Specifically, this site is a participant in the Amazon Services LLC Associates Program, an affiliate advertising program designed to provide a means for website owners to earn advertising fees by advertising and linking to amazon.com, audible.com, and any other website that may be affiliated with Amazon Service LLC Associates Program.