The Private Eye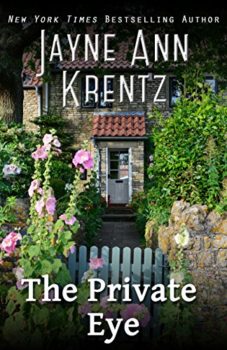 Harlequin Temptation
Originally Published December 3, 1991
Recently published June 26, 2017
e-Book
A Jayne Ann Krentz Classic. First time in eBook.
After an unfortunate encounter with the wrong end of a knife, Private Eye Josh January is in desperate need of some time off.
The proprietor of the Peregrine Manor B&B needs an investigator and, while the pay isn't great, the offer of one full month of 5-star hospitality is just what the doctor ordered. Josh figures he can get some R&R while taking on a simple, small-town case . He hadn't planned on a hot affair with his new client but one look at Maggie Gladstone changes everything. He's sure the instant attraction is mutual.
Maggie Gladstone has other ideas. She needs a hero. The investigator standing at her front door looks like he's been run over by a truck. And he' s on crutches! Okay, he's definitely the most interesting man she has ever met but she had hoped to hire a private eye ready to face serious danger. In his current condition, Josh January probably couldn't even take down a toddler carrying a teddy bear .
Unable to afford a more physically fit investigator Maggie reluctantly allows Josh to stay. But neither Josh nor the case are what they seem to be at first glance. As desire and danger swirl around them, Josh and Maggie discover that love sometimes comes along in the most unexpected ways.
Originally published January 1992 in Harlequin Temptation #377 and numerous reissues in mass market paperback.
* This site contains affiliate links to products. We may receive a commission for purchases made through these links. Specifically, this site is a participant in the Amazon Services LLC Associates Program, an affiliate advertising program designed to provide a means for website owners to earn advertising fees by advertising and linking to amazon.com, audible.com, and any other website that may be affiliated with Amazon Service LLC Associates Program.