Lady's Choice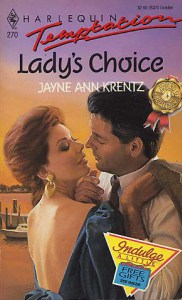 Harlequin Temptation #270
Originally Published September 5, 1989
Recently published March 14, 2006
Harlequin Paperback
Out of Print
After one night of passionate intimacy, Travis Sawyer realized he'd taken his need for revenge too far. Juliana Grant was under his skin and in the way. And now there was no turning back.
Somehow Juliana had fallen in love with a man determined to get even with her. Well, she could play the game, too. Travis owed her and she intended to see that he paid his debts in full.
Originally published in Harlequin Temptation #270, 09/89.
* This site contains affiliate links to products. We may receive a commission for purchases made through these links. Specifically, this site is a participant in the Amazon Services LLC Associates Program, an affiliate advertising program designed to provide a means for website owners to earn advertising fees by advertising and linking to amazon.com, audible.com, and any other website that may be affiliated with Amazon Service LLC Associates Program.