With This Ring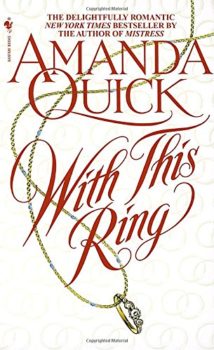 Vanza
Originally Published April 1, 1998
Recently published December 18, 2009
Hardcover, Paperback, e-Book
Leo Drake, the "Mad Monk of Monkcrest," is notoriously eccentric and unquestionably reclusive. But he is also a noted antiquities expert, which is why Beatrice Poole has demanded his reluctant assistance.
The freethinking authoress of "horrid novels," Beatrice is searching for the Forbidden Rings of Aphrodite, a mythic treasure she suspects played a role in her uncle's death. Beatrice finds Leo every bit as fascinating as one of the heroes in her novels–and she's convinced he's the only one who can help her. But after only five minutes in her company, Leo is sure he's never met a woman more infuriating…and more likely to rescue him from boredom.
Yet the alliance may well prove to be the biggest mistake of their lives. For a villain lurks in London, waiting for the pair to unearth the Forbidden Rings–knowing that when they do, that day will be their last….
* This site contains affiliate links to products. We may receive a commission for purchases made through these links. Specifically, this site is a participant in the Amazon Services LLC Associates Program, an affiliate advertising program designed to provide a means for website owners to earn advertising fees by advertising and linking to amazon.com, audible.com, and any other website that may be affiliated with Amazon Service LLC Associates Program.