Lie by Moonlight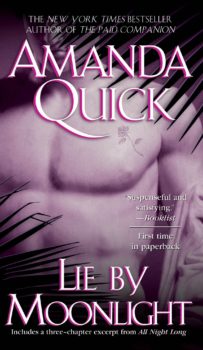 Vanza
Originally Published June 7, 2005
Recently published April 25, 2006
Hardcover, Paperback, Audio, e-Book
Welcome back to Late Victorian England—and meet the last Master of Vanza…
Hired to tutor four orphaned girls at remote, ramshackle Aldwick Castle, Miss Concordia Glade is pleased to find her pupils both eager and bright. Indeed, they are bright enough to have noticed some oddities about their situation. Provided for by an unseen benefactor, they are surrounded at all times by hard-eyed guards in the guise of gardeners—and their previous tutor, she learns, disappeared under mysterious circumstances.
Stepping into this uncertain atmosphere, Concordia sees at once what must be done. The plan is daring in scope and execution, but with the help of her four students, the great escape stands a good chance of success. Of course, even the best-laid plans can go awry…and even the most independent, strong-minded lady must occasionally accept an offer of help.
During an investigation into a woman's death, private inquiry agent Ambrose Wells finds himself on the castle grounds—and in the middle of chaos. The building is in flames. People are dead. And a woman and four girls are fleeing on horseback. A confirmed loner, Ambrose nevertheless finds himself taking Concordia and her students under his wing. His past has made him eminently suitable to protect them from the person behind the events at Aldwick Castle: a notorious London crime lord who will stop at nothing to destroy those who know his secrets.
Their lives at risk, Concordia and the girls must remain safely in hiding until Ambrose is able to unravel the dark conspiracy. But if the girls have learned anything from Miss Glade, it is the value of curiosity—a quality their teacher possesses in great abundance. She has never been one to sit back quietly and let others take care of her. As the danger circles ever closer, Ambrose and Concordia must work together to discover a way out of the darkness. In the process, they will learn a few lessons themselves—about stubbornness, courage, and love.
* This site contains affiliate links to products. We may receive a commission for purchases made through these links. Specifically, this site is a participant in the Amazon Services LLC Associates Program, an affiliate advertising program designed to provide a means for website owners to earn advertising fees by advertising and linking to amazon.com, audible.com, and any other website that may be affiliated with Amazon Service LLC Associates Program.