Wicked Widow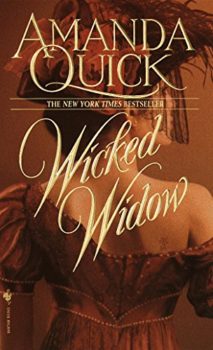 Vanza
Originally Published April 4, 2000
Recently published February 27, 2001
Hardcover, Paperback, Audio, e-Book
Madeline Deveridge is aware of the whispers behind her back, the rumors that she dispatched her husband to the next world and concealed her crime. But she has a far more pressing problem than her reputation as the Wicked Widow. It's impossible to believe that her late husband is haunting her and her aunt, but something odd is happening, and Madeline doesn't dare take chances.
Summoning the brilliant, reclusive Artemas Hunt, secret owner of London's favorite pleasure pavilions and master of arcane talents, she blackmails him into providing help. As soon as the bargain is struck, Artemas and Madeline find their arrangement complicated by searing desire, and the frightening recognition that the ghost poses a very real danger. Now they must plunge into a world of intrigue and ancient mysteries, where a calculating killer — and a tantalizing passion — will not be denied.
* This site contains affiliate links to products. We may receive a commission for purchases made through these links. Specifically, this site is a participant in the Amazon Services LLC Associates Program, an affiliate advertising program designed to provide a means for website owners to earn advertising fees by advertising and linking to amazon.com, audible.com, and any other website that may be affiliated with Amazon Service LLC Associates Program.