Sinister and Fatal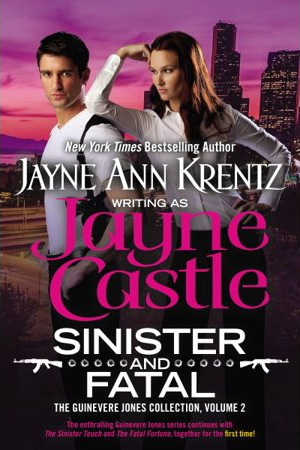 Guinevere Jones #3 and 4
Originally Published January 4, 2014
Trade Size
The enthralling Guinevere Jones series continues with The Sinister Touch and The Fatal Fortune, together for the first time!
Fortune doesn't shine on Guinevere Jones and Zac Justis in the mesmerizing continuation of the New York Times bestselling series.
The Sinister Touch (originally published October 1986 by Dell Books, writing as Jayne Castle and August 2012 in eBook format by InterMix)
Guinevere Jones has her head turned by the handsome young artist across the way. And when his apartment is broken into and a painting defaced, she offers her help. Now Guinevere and Zac—and his jealous nature—must confront a dark evil that will stop at nothing to achieve its unholy goal.
The Fatal Fortune (originally published December 1986 by Dell Books, writing as Jayne Castle and August 2012 in eBook format by InterMix)
When Guinevere Jones discovers that a so-called fortune-teller is making big profits by deceiving her clients, she vows to expose the scam. Now Zac—who will do anything to keep Gwen safe—helps her uncover the deadly deceptions of a blackmailer and killer out to destroy every trace of the past…