The Lady Has a Past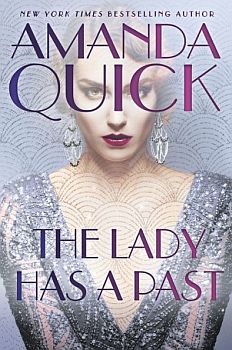 Burning Cove #5
Originally Published May 4, 2021
Berkley Hardcover, eBook
*affiliate link
Beauty and glamour meet deception and revenge in this electrifying novel by New York Times bestselling author Amanda Quick.
Investigative apprentice Lyra Brazier, the newest resident of Burning Cove, is unsettled when her boss suddenly goes on a health retreat at an exclusive spa and disappears without another word. Lyra knows something has happened to Raina Kirk, and she is the only one who can track her down. The health spa is known for its luxurious offerings and prestigious clientele, and the wealthy, socialite background Lyra desperately wanted to leave behind is perfect for this undercover job. The agency brings in a partner and bodyguard for her, but she doesn't get the suave, pistol-packing private eye she expected.
Simon Cage is a mild-mannered antiquarian book dealer with a quiet, academic air, and Lyra can't figure out why he was chosen as her partner. But it soon becomes clear when they arrive at the spa and pose as a couple: Simon has a unique gift that allows him to detect secrets, a skill that is crucial in finding Raina.
The unlikely duo falls down a rabbit hole of twisted rumors and missing socialites, discovering that the health spa is a façade for something far darker than they imagined. With a murderer in their midst, Raina isn't the only one in grave danger—Lyra is next.
* This site contains affiliate links to products. We may receive a commission for purchases made through these links. Specifically, this site is a participant in the Amazon Services LLC Associates Program, an affiliate advertising program designed to provide a means for website owners to earn advertising fees by advertising and linking to amazon.com, audible.com, and any other website that may be affiliated with Amazon Service LLC Associates Program.