The Cowboy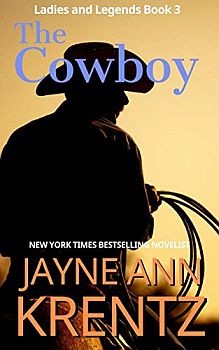 Ladies and Legends #3
Originally Published May 1, 1990
Recently published June 18, 2019
Purple Papaya LLC eBook, audio
Margaret Lark isn't one to let a bad breakup cast a cloud over her best friend's wedding, but the happy occasion brought some intense feelings charging back. She thought Rafe Cassidy loved her, but he really wanted the upper hand on a business deal and Margaret was in the position to give him the inside information he needed. When she realized Rafe's intent, she resigned from her job and vanished.
Rafe saw his acquisition plans go up in smoke when Margaret disappeared. But now that he's found her again, he has plans to get exactly what he missed out on before—Margaret herself. And he knows exactly how he'll win her back….
Originally published May 1990 in Harlequin Temptation #302 in mass market paperback; February 1999 in mass market paperback by MIRA and April 2006 in 3-in-1 (The Pirate, The Adventurer & The Cowboy) trade paperback by Harlequin.
* This site contains affiliate links to products. We may receive a commission for purchases made through these links. Specifically, this site is a participant in the Amazon Services LLC Associates Program, an affiliate advertising program designed to provide a means for website owners to earn advertising fees by advertising and linking to amazon.com, audible.com, and any other website that may be affiliated with Amazon Service LLC Associates Program.