The Adventurer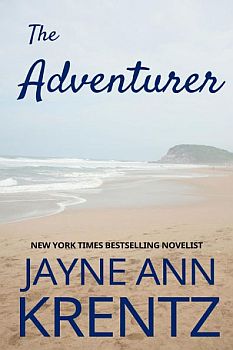 Ladies and Legends #2
Originally Published March 1, 1990
Recently published September 9, 2018
Purple Papaya eBook
Romance writer Sarah Fleetwood is obsessed with the Fleetwood Flowers, five pairs of gold earrings that constitute a long lost family treasure. According to the legend, shortly before her death, Emelina Fleetwood buried the earrings on her property and drew a map to the location. Now Sarah is determined to embark on a quest to find the flowers.
Ex-adventurer Gideon Trace doesn't want anything to do with Sarah and her quest for the Flowers, a fact he has repeatedly made clear ever since she first contacted him. Obviously his discouragement wasn't strong enough because now Sarah is standing at his front door insisting that he is just the man to lead her treasure hunt.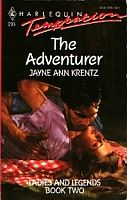 A woman who believes in happy endings is about to share a cozy cabin in the mountains with a man who is large, cold-eyed and dangerous. What could possibly go wrong?
Originally published March 1990 in Harlequin Temptation #293 and October 1998 by MIRA in mass market paperback. Also published May 2006 within the 3-in-1 The Pirate, The Adventurer & The Cowboy in trade paperback by Harlequin.
* This site contains affiliate links to products. We may receive a commission for purchases made through these links. Specifically, this site is a participant in the Amazon Services LLC Associates Program, an affiliate advertising program designed to provide a means for website owners to earn advertising fees by advertising and linking to amazon.com, audible.com, and any other website that may be affiliated with Amazon Service LLC Associates Program.