Shield's Lady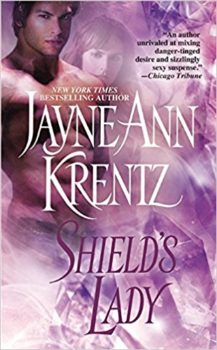 Lost Colony
Originally Published June 6, 1989
Recently published January 1, 1996
Hardcover, Paperback, Audio, e-Book
JOINED BY POWER AND PASSION!
She was a cool confident businesswoman, a beautiful outcast from the East determined to regain her rightful status. He was a Shield, an intense mercenary respected and feared throughout the opulent cities and savage frontiers of the West. But from the moment they met, fate made them one. Gazing into Gryph's blue-green eyes, Sarianna felt both the heat of his touch and the surge of a mysterious force that branded her his true mate. Was it her destiny to be enslaved by desire and forever bound to her man by a power that frightened her? Soon the woman from the East must learn the ways of the West–as she and Gryph join forces in a dangerous quest to save their world. And soon their love will be tested to its limits–sweeping the Shield and his lady into undreamed of realms of shimmering, shattering ecstasy.
Originally published June 1989 by Popular Library writing as Amanda Glass.