Truth Or Dare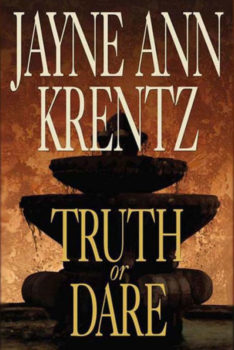 Whispering Springs
Originally Published December 29, 2003
Hardcover, Paperback, Audio, e-Book
Zoe is an interior designer with a unique sense of style. But even more uncanny is her sense of what's going on under the surface, the secrets a house can hold.
At the moment, though, Zoe isn't concerned about a client's space. She's more worried about what's going on in her own house in Whispering Springs, Arizona, where she lives with her new husband, private investigator Ethan Truax. After a whirlwind courtship, and a dangerous adventure, they've gambled on commitment, hoping that their powerful attraction can help them learn to live together despite their utterly opposite personalities.
But newlywed life is suddenly interrupted when a shadowy figure from Zoe's past shows up in Whispering Springs, and her closest friend is put at terrible risk. For Zoe and Arcadia Ames share a shocking secret. And as they seek to protect the truth, they must join together, and with Ethan's help, accept a very dangerous dare.
* This site contains affiliate links to products. We may receive a commission for purchases made through these links. Specifically, this site is a participant in the Amazon Services LLC Associates Program, an affiliate advertising program designed to provide a means for website owners to earn advertising fees by advertising and linking to amazon.com, audible.com, and any other website that may be affiliated with Amazon Service LLC Associates Program.