Light in Shadow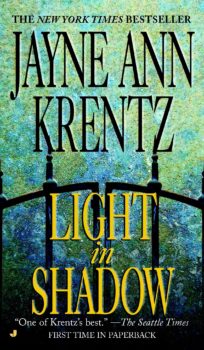 Whispering Springs
Originally Published January 1, 2003
Hardcover, Paperback, Audio, e-Book
Zoe Luce is a successful interior designer in the Arizona town of Whispering Springs who's developed an unusual career specialty-helping recently divorced clients redesign their homes, to help them forget the past and start anew. But Zoe knows that some things can't be covered up with a coat of paint. And when she senses that one of her clients may be hiding a dark secret, she enlists P.I. Ethan Truax to find the truth.
Working together, they solve the mystery . . . and barely escape with their lives. But Ethan's exquisite detection skills are starting to backfire on Zoe: she never wanted to let him find out about her former life; she never wanted to reveal her powerful, inexplicable gift for sensing the history hidden within a house's walls; she never wanted him to know that "Zoe Luce" doesn't really exist. She never wanted to fall in love with him.
Now, no matter how much she resists, Ethan may be her only hope-because the people she's been running from have found her. And just when Zoe dares to dream of a normal life and a future with the man she loves, her own past starts to shadow her every step-and threatens to take her back into a nightmare.
* This site contains affiliate links to products. We may receive a commission for purchases made through these links. Specifically, this site is a participant in the Amazon Services LLC Associates Program, an affiliate advertising program designed to provide a means for website owners to earn advertising fees by advertising and linking to amazon.com, audible.com, and any other website that may be affiliated with Amazon Service LLC Associates Program.