The Vanishing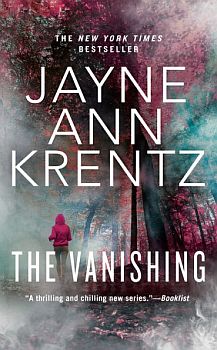 Fogg Lake #1
Originally Published January 7, 2020
Recently published November 10, 2020
Hardcover, Mass Market Paperback, eBook
From New York Times bestselling author Jayne Ann Krentz comes a gripping new romantic suspense trilogy fraught with danger and enigma.
Decades ago in the small town of Fogg Lake, The Incident occurred: an explosion in the cave system that released unknown gases. The residents slept for two days. When they woke up they discovered that things had changed'they had changed. Some started having visions. Others heard ominous voices. And then, scientists from a mysterious government agency arrived. Determined not to become research subjects of strange experiments, the residents of Fogg Lake blamed their "hallucinations" on food poisoning, and the story worked. But now it has become apparent that the eerie effects of The Incident are showing up in the descendants of Fogg Lake.…
Catalina Lark and Olivia LeClair, best friends and co-owners of an investigation firm in Seattle, use what they call their "other sight" to help solve cases. When Olivia suddenly vanishes one night, Cat frantically begins the search for her friend. No one takes the disappearance seriously except Slater Arganbright, an agent from a shadowy organization known only as the Foundation, who shows up at her firm with a cryptic warning.
A ruthless killer is hunting the only witnesses to a murder that occurred in the Fogg Lake caves fifteen years ago—Catalina and Olivia. And someone intends to make both women vanish.
Originally published January 2020 in hardcover, audio and eBook.
Publishers Weekly — "Krentz masterfully balances mystery, romance, and the paranormal. Readers are sure to be hooked on this new series." Booklist *Starred* — "…Expertly entwines high-stakes suspense, a paranormal-spiked plot, and a generous dollop of sexy romance with delightfully dry wit…launches a thrilling and chilling new series…" John Charles Library Journal — "With romance, mystery, intrigue and a host of paranormal elements, Krentz's…latest will hook fans across genres."
* This site contains affiliate links to products. We may receive a commission for purchases made through these links. Specifically, this site is a participant in the Amazon Services LLC Associates Program, an affiliate advertising program designed to provide a means for website owners to earn advertising fees by advertising and linking to amazon.com, audible.com, and any other website that may be affiliated with Amazon Service LLC Associates Program.