All the Colors of Night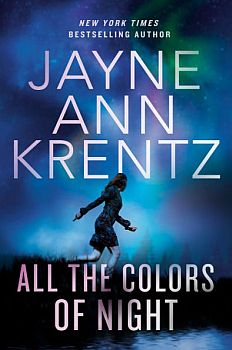 Fogg Lake #2
Originally Published January 5, 2021
Recently published November 30, 2021
Hardcover, eBook, audio, mass market paperback
An instant New York Times bestseller!
Two psychics plunge into a dark world of deadly secrets in this second installment in the Fogg Lake trilogy by New York Times bestselling author Jayne Ann Krentz.
North Chastain possesses a paranormal talent that gives him the ability to track down the most dangerous psychic criminals. When his father suddenly falls into a coma-like state, North is convinced it was caused by a deadly artifact that traces back to the days of a secret government program known only as the Bluestone Project. North knows his only hope of saving his father is to find the artifact. He is good when it comes to tracking down killers, but to locate the relic he's going to need help from a psychic who knows the shadowy world of obsessive collectors, deceptive dealers and ruthless raiders.…
With her reputation in ruins after a false accusation, antiques expert Sierra Raines is looking for a fresh start. She turns to the murky backwaters of the paranormal artifacts trade, finding and transporting valuable objects with a psychic provenance. When North Chastain approaches her for help, Sierra takes him on as a client, though not without reservations. North represents the mysterious Foundation, the secretive organization established to police the underworld populated by psychic criminals and those, like Sierra, who make a living in the shadows of that world.
North and Sierra soon find themselves at the scene of the Incident, which occurred decades ago in Fogg Lake. The town and its residents were forever changed by the disaster in the nearby Bluestone Project labs. The pair unearths shocking truths about what happened that fateful night, but they are playing with fire—someone in town knows what they've discovered and will do anything to make sure the secrets stay buried.
Originally published January 2021 in hardcover and eBook.
Booklist (Starred Review) — "…(Krentz) deftly draws on her mad genius for exciting plots and signature sharp sense of humor to create another sexy, suspenseful, and sublimely entertaining story." — John Charles Publishers Weekly — "Krentz brings the goods…Sierra and North's sizzling chemistry builds into a powerful connection that makes them more than a match for their foes…The combination of romance, danger, mystery, and the occult is sure to sate Krentz's fans."
* This site contains affiliate links to products. We may receive a commission for purchases made through these links. Specifically, this site is a participant in the Amazon Services LLC Associates Program, an affiliate advertising program designed to provide a means for website owners to earn advertising fees by advertising and linking to amazon.com, audible.com, and any other website that may be affiliated with Amazon Service LLC Associates Program.