Twist Of Fate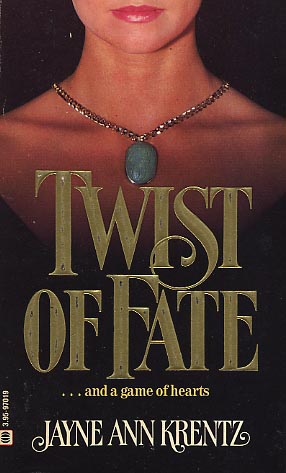 Originally Published January 7, 1986
Recently published February 1, 2007
Harlequin Paperback
Out of Print
Cloistered as a faculty member at a small college, beautiful Hannah Jessett can almost forget her family heritage. Few know she's the niece of Elizabeth Nord, the legendary anthropologist who stunned the world with her revolutionary work—until her aunt dies, leaving Hannah in sole possession of her priceless unpublished journals.
But Hannah has other matters to contend with. Her brother's company is about to be destroyed by Gideon Cage, a wealthy entrepreneur with a notorious reputation in the boardroom . . . and the bedroom.
When she confronts Gideon, all she sees is a powerful man with a fast smile and soft eyes. Yet before she can catch her breath and really understand this puzzle of a man, her whole world is suddenly threatened: her brother, her aunt's legacy, her heart—and her life!
* This site contains affiliate links to products. We may receive a commission for purchases made through these links. Specifically, this site is a participant in the Amazon Services LLC Associates Program, an affiliate advertising program designed to provide a means for website owners to earn advertising fees by advertising and linking to amazon.com, audible.com, and any other website that may be affiliated with Amazon Service LLC Associates Program.