Trust No One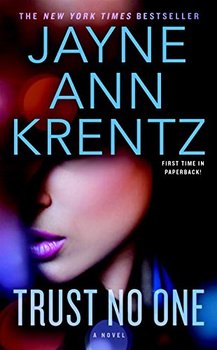 Originally Published January 6, 2015
Recently published December 29, 2015
Paperback
The author of River Road and Dream Eyes delivers another masterpiece of romantic suspense…
When Grace Elland finds her boss, motivational speaker Sprague Witherspoon, murdered, a vodka bottle on his nightstand is a terrifying reminder of the horrors of her past—one that can be no coincidence.
To regroup, Grace retreats to her childhood home, Cloud Lake, where she meets venture capitalist Julius Arkwright, a man who lives to make money, by any means necessary. But the intense former Marine has skills that Grace can use—to figure out her future. And he's the perfect man to help Grace when it becomes clear she is being stalked.
As Witherspoon's financial empire continues to crumble
around them, taking a deadly toll, Julius will walk Grace step by step into her past to uncover a devious plan to destroy not only Grace, but everyone around her as well…
Originally published January 2015 in hardcover by Putnam.
* This site contains affiliate links to products. We may receive a commission for purchases made through these links. Specifically, this site is a participant in the Amazon Services LLC Associates Program, an affiliate advertising program designed to provide a means for website owners to earn advertising fees by advertising and linking to amazon.com, audible.com, and any other website that may be affiliated with Amazon Service LLC Associates Program.