Trust Me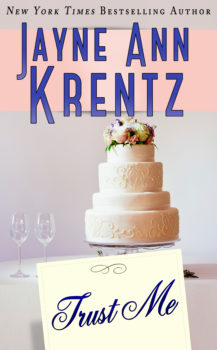 Originally Published February 7, 1995
Recently published March 13, 2014
Hardcover, Paperback, e-Book
Desdemona Wainwright didn't want to be in Sam Stark's office, but her catering business was at stake. Someone had to pay the bill, and she wasn't going to leave until she had a check from Sam Stark. It wasn't her fault he was jilted at the altar.
Stark can't believe he's sharing details of his life with a caterer. He's a private person, not one to have long, meaningful conversations with a complete stranger. So when Desdemona asks him, on a whim, to join her that evening for a play…he surprises himself by saying yes. A much bigger shock awaits — he's about to meet Desdemona's unusual family…
Originally published February 1995 in hardcover and September 1995 in mass market paperback for Pocket Books.
* This site contains affiliate links to products. We may receive a commission for purchases made through these links. Specifically, this site is a participant in the Amazon Services LLC Associates Program, an affiliate advertising program designed to provide a means for website owners to earn advertising fees by advertising and linking to amazon.com, audible.com, and any other website that may be affiliated with Amazon Service LLC Associates Program.