'Til Death Do Us Part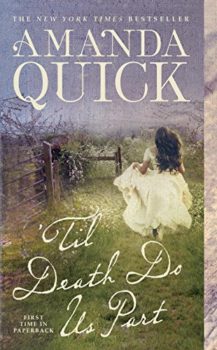 Originally Published April 19, 2016
Recently published May 9, 2017
Hardcover, Paperback, Audio, e-Book
The author of the New York Times bestseller Garden of Lies returns to Victorian London in an all-new novel of deadly obsession.
Calista Langley operates an exclusive "introduction" agency in Victorian London, catering to respectable ladies and gentlemen who find themselves alone in the world. But now, a dangerously obsessed individual has begun sending her trinkets and gifts suitable only for those in deepest mourning—a black mirror, a funeral wreath, a ring set with black jet stone. Each is engraved with her initials.
Desperate for help and fearing that the police will be of no assistance, Calista turns to Trent Hastings, a reclusive author of popular crime novels. Believing that Calista may be taking advantage of his lonely sister, who has become one of her clients, Trent doesn't trust her. Scarred by his past, he's learned to keep his emotions at bay, even as an instant attraction threatens his resolve.
But as Trent and Calista comb through files of rejected clients in hopes of identifying her tormentor, it becomes clear that the danger may be coming from Calista's own secret past—and that only her death will satisfy the stalker…
Originally published April 2016 in hardcover.
"Best-selling Quick knows what her readers want, and she delivers it in spades with her latest mesmerizing historical romance. The perfectly realized Victorian setting adds just the right dash of gothic flavor to the story, and the smartly paced plot is filled with enough goose-bump-inducing chills and sexy, romantic thrills to have readers sighing happily with satisfaction. The icing on this irresistible literary confection is Quick's distinctive sense of wit, which remains just as delicious as ever."—Booklist (starred review)
 
"Romantic suspense luminary Quick moves into edgy thriller territory with intelligence and aplomb and uses the backdrop of gaslight-tinted, death-obsessed Victorian London to perfection. The plot is smart and tight and the characters complex, while the subtle wink of humor toward a successful mystery author's plight and romance subplots will make fans smile. Quick's appealing new direction somehow balances Gothic intensity and lighthearted wit."—Kirkus Reviews (starred review)
 
"Quick's ambitious Victorian historical mixes witty, occasionally self-referential banter with gothic undertones and a solid thriller plot…Along with the danger, Quick throws in a great deal of humor, a large cast of well-rounded characters, and lots of solid red herrings. This is a true delight for fans of historical romances and mysteries."—Publishers Weekly (starred review)
* This site contains affiliate links to products. We may receive a commission for purchases made through these links. Specifically, this site is a participant in the Amazon Services LLC Associates Program, an affiliate advertising program designed to provide a means for website owners to earn advertising fees by advertising and linking to amazon.com, audible.com, and any other website that may be affiliated with Amazon Service LLC Associates Program.