The Waiting Game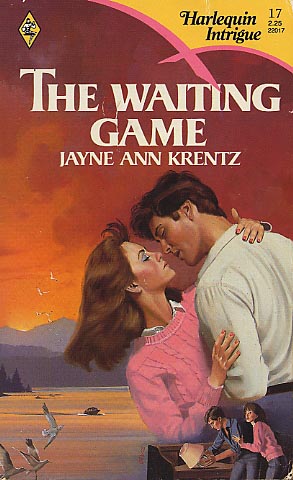 Harlequin Intrigue #17
Originally Published May 7, 1985
Recently published July 1, 1998
Harlequin Paperback
Out of Print
*affiliate link
Appearing as a major motion picture on The Movie Channel( in August 1998), this unbeatable story delivers a passionately romantic adventure amidst an intriguing, fast-paced search for a cache of gold and the man who knows its location.
The answer was crystal clear…
Sara Frazer had no choice. She had to break into Adrian Saville's house to look for clues to the whereabouts of her Uncle Lowell. And once she was inside, she couldn't help doing some additional snooping around – just a little bit . . .
Long before he opened the front door, Adrian Saville knew someone was in his house, for he had a special alarm system that trapped an intruder inside instead of keeping him out. But when Adrian saw who his visitor was, he couldn't believe his eyes. Sara. He had dreamed about her, had fantasized about their inevitable meeting – a meeting that was inevitable because only Adrian knew what clues Sara was looking for!
* This site contains affiliate links to products. We may receive a commission for purchases made through these links. Specifically, this site is a participant in the Amazon Services LLC Associates Program, an affiliate advertising program designed to provide a means for website owners to earn advertising fees by advertising and linking to amazon.com, audible.com, and any other website that may be affiliated with Amazon Service LLC Associates Program.