The Golden Chance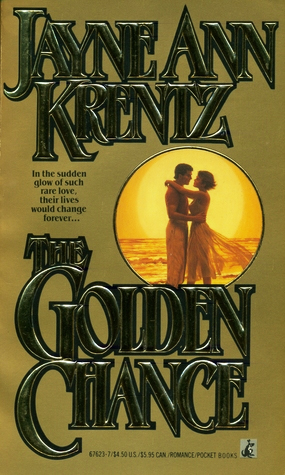 Originally Published March 6, 1990
Recently published December 1, 1997
Pocket Books Paperback
Out of Print
*affiliate link
When she gains control of his family fortune, it's love at first fight.
Stunning, stubborn, and independent, Philadelphia Fox lost her best friend because of the fabulously rich and powerful Lightfoot family of Washington state. Now she's got her friend's controlling shares in Lightfoot Industries — an inheritance that brings Nick, the family's prodigal and supremely attractive son, knocking at her door.
An unexpected and irrepressible spark between them blazes into extraordinary passion, and Phila — historically unlucky in love — finds the deepest satisfaction she has ever known. But behind Nick's gray eyes lurks a disturbing enigmaŠand Phila must make the choice of her life. Trusting Nick may come with quite a price — but giving in to his strong, sensual seduction is a golden chance that may never come again.
New York Times bestselling author Jayne Ann Krentz goes for the gold in this sizzling novel of family loyalties, secret desires, and star-crossed lovers!
Originally published March 1990.
* This site contains affiliate links to products. We may receive a commission for purchases made through these links. Specifically, this site is a participant in the Amazon Services LLC Associates Program, an affiliate advertising program designed to provide a means for website owners to earn advertising fees by advertising and linking to amazon.com, audible.com, and any other website that may be affiliated with Amazon Service LLC Associates Program.