Surrender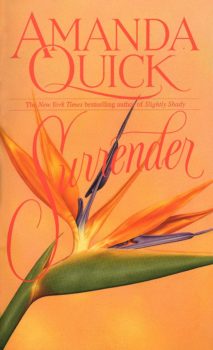 Originally Published October 15, 1990
Recently published November 27, 2007
Paperback, e-Book
From the dazzling ballrooms of glittering London society to magnificent, cursed estate in the distant wilds of Yorkshire, comes the deliciously wicked story of a thoroughly unconventional courtship—and a thrilling midnight rendezvous that could only lead to love…
At four and twenty Victoria Huntington thought herself quite adept at fending off fortune hunters… until she came under siege from Lucas Colebrook, the darkly disturbing new Earl of Stonevale. Amidst the brightly plumed birds of the town, Lucas was a hawk. And when he held out the lure of moonlit rides and wild, reckless midnight escapades, Victoria found herself powerless to resist.
But becoming Stonevale's companion in adventure was far more dangerous undertaking than Victoria could ever imagine. For the attractive Earl would use her every weakness to woo her, to win her, and ultimately to wed her. And soon the amber-eyed lady would find herself ensconced in a crumbling mansion deep in the English countryside… where the real reason for her hasty marriage becomes all too apparent…and where the ghosts of her dark-stained past are waiting to rise up in a terrifying plot that will threaten her life, her honor, and the only man she could ever love.
Originally published by Bantam Books in October 1990.
* This site contains affiliate links to products. We may receive a commission for purchases made through these links. Specifically, this site is a participant in the Amazon Services LLC Associates Program, an affiliate advertising program designed to provide a means for website owners to earn advertising fees by advertising and linking to amazon.com, audible.com, and any other website that may be affiliated with Amazon Service LLC Associates Program.