Sharp Edges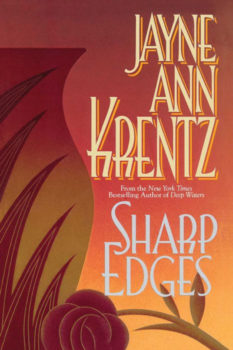 Originally Published February 1, 1998
Recently published September 1, 1998
Hardcover, Paperback, Audio, e-Book
Eugenia Swift is a young woman of singular sensibilities, and a connoisseur of beauty. As the director of the Leafbrook Glass Museum, she's been asked to travel to Frog Cove Island — an artistic haven near Seattle — to catalog an important collection of art glass. But thanks to unsavory rumors surrounding the collector's death, the museum insists that Eugenia take along Cyrus Chandler Colfax — a rough-hewn private investigator whose taste in glass runs to ice-cold bottles filled with beers.
When Colfax declares they must pose as a couple, Eugenia protests in a manner as loud as his Hawaiian shirts. She fears that her secret mission will be discovered…while he hopes that she will be a mask for his own hidden agenda. But soon their very lives depend on making an utterely convincing couple. Because among the chic galleries of Frog Cove Island lurks a killer, and their only chance for survival is the boldest, most artful collaboration they can dare to imagine.
* This site contains affiliate links to products. We may receive a commission for purchases made through these links. Specifically, this site is a participant in the Amazon Services LLC Associates Program, an affiliate advertising program designed to provide a means for website owners to earn advertising fees by advertising and linking to amazon.com, audible.com, and any other website that may be affiliated with Amazon Service LLC Associates Program.