Seduction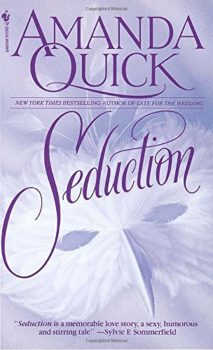 Originally Published March 6, 1990
Recently published June 8, 2010
Paperback, e-Book
Townsfolk called him devil. For dark and enigmatic Julian, Earl of Ravenwood, was a man with a legendary temper and a first wife whose mysterious death would not be forgotten. Some said the beautiful Lady Ravenwood had drowned herself in the black, murky waters of Ravenwood Pond. Others whispered of foul play and the devil's wrath.
Now country-bred Sophy Dorring is about to become Ravenwood's new bride. Drawn to his masculine strength and the glitter of desire that burned in his emerald eyes, the tawny-haired lass had her own reasons for agreeing to a marriage of convenience. One was vengeance, and in its pursuit she would entangle Julian in a blackmail plot, a duel at dawn, and a dangerous masquerade. The other reason was dearer to her heart, but just as wild a quest: Sophy Dorring intended to teach the devil to love again.
Originally published in February 1990.
* This site contains affiliate links to products. We may receive a commission for purchases made through these links. Specifically, this site is a participant in the Amazon Services LLC Associates Program, an affiliate advertising program designed to provide a means for website owners to earn advertising fees by advertising and linking to amazon.com, audible.com, and any other website that may be affiliated with Amazon Service LLC Associates Program.