Scandal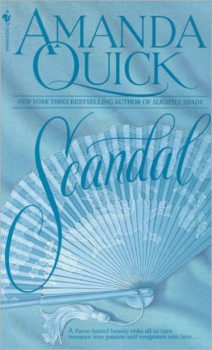 Originally Published February 26, 1991
Recently published November 24, 2009
Paperback, e-Book
From a stately country house in Hampshire to the dazzling drawing rooms of London Society, comes an exquisite tale of an elfin beauty, a vengeful lord, and a sweet love that is sheer poetry.
With her reputation forever tarnished by a youthful indiscretion, lovely Emily Faringdon is resigned to a life of spinsterhood, until she embarks on an unusual correspondence and finds herself falling head over heals in love. Sensitive, intelligent, and high-minded, her noble pen-pal seems to embody everything Emily has ever dreamed of in a man. But the mysterious Earl of Blade is not at all what he seems.
Driven by dark, smoldering passions and a tragic secret buried deep within his soul, Blade has all of London cowering at his feet, but not Emily… never Emily. For even as she surrenders to his seductive charms, she knows the real reason for his amorous wit. And she knows that she must reach the heart of his golden-eyed dragon before the avenging demons of their entwined pasts destroy the only love she has ever known…
Originally published February 1991.
* This site contains affiliate links to products. We may receive a commission for purchases made through these links. Specifically, this site is a participant in the Amazon Services LLC Associates Program, an affiliate advertising program designed to provide a means for website owners to earn advertising fees by advertising and linking to amazon.com, audible.com, and any other website that may be affiliated with Amazon Service LLC Associates Program.