Reckless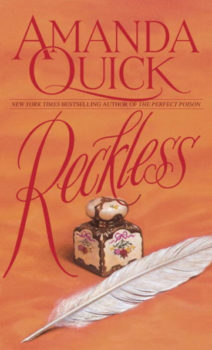 Originally Published December 22, 1992
Recently published June 8, 2010
Paperback, e-Book
Phoebe Layton had always imagined Gabriel Banner a brave and valiant knight, which was why she went to him when she was in desperate need of help. but when she lures her shining knight to a lonely midnight rendezvous, Phoebe finds herself sparring with a dangerously desirable man who is nothing like the hero of her dreams. She fears she's made a dreadful mistake when Gabriel sweeps her into his arms and passionately embraces her. Yet it's a kiss that seals her fate. Now Gabriel must possess her—even if he has to slay a dragon to do it!
Originally published in December 1992.
* This site contains affiliate links to products. We may receive a commission for purchases made through these links. Specifically, this site is a participant in the Amazon Services LLC Associates Program, an affiliate advertising program designed to provide a means for website owners to earn advertising fees by advertising and linking to amazon.com, audible.com, and any other website that may be affiliated with Amazon Service LLC Associates Program.