On the Edge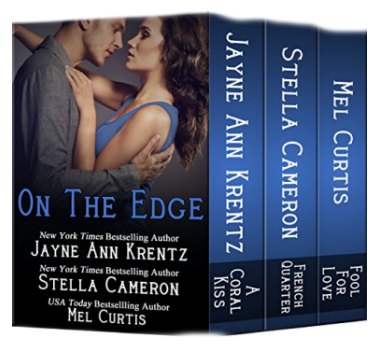 Originally Published May 18, 2015
e-Book
Box Set
Bestselling authors Jayne Ann Krentz, Stella Cameron, and Mel Curtis bring together three romance novels in one boxed set. From a sultry island, the steamy bayou, and the heat of Hollywood — you'll be taken on romantic journeys you won't soon forget.
A Coral Kiss by New York Times Bestselling Author Jayne Ann Krentz
(originally published April 1987 by Popular Library/Warner, June 1992 and January 2000 by Warner in mass market paperback and November 2012 by Purple Papaya LLC in eBook format)
As far as Amy Slater was concerned, she and the mysterious Jed Glaze had the perfect relationship…they were good friends. Amy needed someone who wasn't demanding and Jed needed someone who wouldn't ask questions when he disappeared for weeks at a time. It worked, until…
Amy and Jed jet off to an island paradise to uncover the source of Amy's crippling nightmares. Together they will reveal the island's secrets and their true feelings for each other.
French Quarter by New York Times Bestselling Author Stella Cameron
(originally published September 1998 in hardcover for Kensington and April 1999 in mass market paperack for Zebra and self published August 2011 in eBook format)
The shocking death of her employer and patron Errol Petrie, the excesses suggested by the murder scene, and the investigation that is sure to follow are just some of the pieces of Celina Payne's nightmare. And the last man she trusts is now the only man she needs.
Errol's business partner and friend Jack Charbonnet, is powerful, enigmatic, and not about to let Celina hide from the truth. Somebody in New Orleans' French Quarter killed Errol and Celina Payne tops the list of suspects. Jack's past is as mysterious as the sultry bayou. He is said to be too dangerous to know, and deadly if crossed. Jack holds the key to Celina's deliverance or her destruction…
Blue Rules by USA Today Bestselling Author Mel Curtis
(originally published September 2013 in trade paperback and eBook formats)
Blue Rule has enjoyed his Hollywood bachelor lifestyle. Until now. Some of his ex-girlfriends have banded together for revenge. Is getting real with a reality show and producer Maddy Polk his redemption? Or will it send his exes over the edge?
* This site contains affiliate links to products. We may receive a commission for purchases made through these links. Specifically, this site is a participant in the Amazon Services LLC Associates Program, an affiliate advertising program designed to provide a means for website owners to earn advertising fees by advertising and linking to amazon.com, audible.com, and any other website that may be affiliated with Amazon Service LLC Associates Program.