Mystique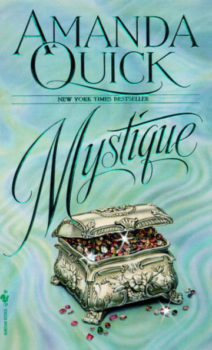 Originally Published June 1, 1995
Recently published December 18, 2009
Paperback
A tantalizing tale of a legendary knight and a headstrong lady whose daring quest for a mysterious crystal will draw them into a whirlwind of treachery—and desire.
When the fearsome knight called Hugh the Relentless swept into Lingwood Manor like a storm, everyone cowered—except Lady Alice. Sharp-tongued and unrepentant, the flame haired beauty believed Sir Hugh was not someone to dread but the answer to her dreams. She knew he had come for the dazzling green crystal, knew he would be displeased to find that it was no longer in her possession. Yet Alice had a proposition for the dark and forbidding knight: In return for a dowry that would free Alice and her brother from their uncle's grasp, she would lend her powers of detection to his warrior's skills and together they would recover his treasured stone. But even as Hugh accepted her terms, he added a condition of his own: Lady Alice must agree to a temporary betrothal—one that would soon draw her deep into Hugh's great stone fortress, and into a battle that could threaten their lives…and their only chance at love.
* This site contains affiliate links to products. We may receive a commission for purchases made through these links. Specifically, this site is a participant in the Amazon Services LLC Associates Program, an affiliate advertising program designed to provide a means for website owners to earn advertising fees by advertising and linking to amazon.com, audible.com, and any other website that may be affiliated with Amazon Service LLC Associates Program.