Mischief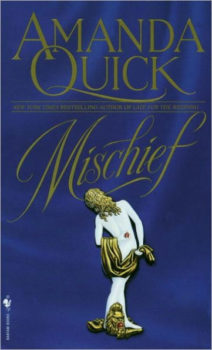 Originally Published June 1, 1996
Recently published February 13, 2010
Hardcover, Paperback, e-Book
Imogene Waterstone has always prided herself on being a thoroughly independent young woman, but now she needs a man of implacable will and nerves of iron. That's why she invited Matthias Marshall, infamous Earl of Colchester, to her home in Upper Strickland. Who better than the legendary explorer to help her lay the perfect trap?
Her scheme is simple, really: She plans to let it be known that when she inherited her uncle's collection of antiquities, she also inherited a map to a fabulous ancient treasure. She's sure that her enemy would risk financial ruin in pursuit of the mythical artifact. And to make doubly sure the scoundrel took the bait, she wants Colchester to pretend that he's out to seduce Imogene so that he, too, could get his hands on her map.
Yet in all of her plotting, Imogene never anticipates Colchester's violent reaction to her request or her own electrifying reaction to him. Neither does she expect that a malevolent threat would emerge from the labyrinth of London—sinister enough to endanger her and Colchester's lives.
* This site contains affiliate links to products. We may receive a commission for purchases made through these links. Specifically, this site is a participant in the Amazon Services LLC Associates Program, an affiliate advertising program designed to provide a means for website owners to earn advertising fees by advertising and linking to amazon.com, audible.com, and any other website that may be affiliated with Amazon Service LLC Associates Program.