Midnight Jewels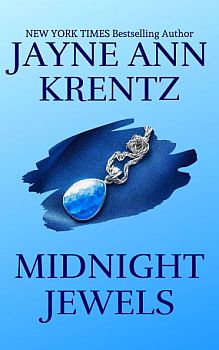 Originally Published August 4, 1987
Recently published June 13, 2012
e-Book
Mercy Pennington spends her days stocking second-hand books at Pennington's Second Chance. Her business keeps her too busy for travel or a social life, but when she advertises a rare book she is plunged into a world of danger and desire.
Croft Falconer's career revolves around violence — the beautifully controlled violence of the martial arts. He knows that Valley of Secret Jewels — a book of 18th century erotica — is linked to a dark secret. He has long believed that it was destroyed in a fire. How could it have fallen into the hands of a small town book dealer? Aware that Mercy is in more trouble than she can possibly know, he tracks her down.
Mercy is soon swept up in a passionate, reckless affair. Croft may be the most dangerous man she has ever known — or the lover of her dreams. But the secrets he is hiding could get them both killed before she discovers the truth.
Originally published November 1987.
* This site contains affiliate links to products. We may receive a commission for purchases made through these links. Specifically, this site is a participant in the Amazon Services LLC Associates Program, an affiliate advertising program designed to provide a means for website owners to earn advertising fees by advertising and linking to amazon.com, audible.com, and any other website that may be affiliated with Amazon Service LLC Associates Program.