Lost & Found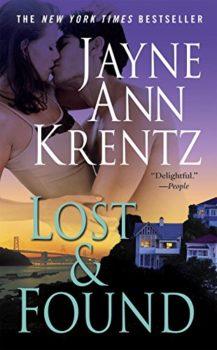 Originally Published January 15, 2001
Recently published November 1, 2001
Hardcover, Paperback, Audio, e-Book
The author of Smoke in Mirrors and Soft Focus presents a sexy, irresistible story of two people searching for secrets—and finding each other…
Cady Briggs is useful to Mack Easton. Her expertise in art and antiques helps his low-profile company, Lost and Found, find missing treasures for high-paying clients. But Cady knows that being useful to a client is one thing—and being used is another. So no matter how alluring she finds Mack, she plans to keep business and pleasure entirely separate.
But then a sudden tragedy puts Cady in charge of Chatelaine's, her family's prestigious art and antiques gallery. Suddenly the roles are reversed, as strange developments at Chatelaine's lead Cady to ask for help from none other than Mack Easton. And instead of tracking down missing masterpieces together, they'll be hunting for a killer…
Originally published January 2001 in hardcover by Putnam.
* This site contains affiliate links to products. We may receive a commission for purchases made through these links. Specifically, this site is a participant in the Amazon Services LLC Associates Program, an affiliate advertising program designed to provide a means for website owners to earn advertising fees by advertising and linking to amazon.com, audible.com, and any other website that may be affiliated with Amazon Service LLC Associates Program.