Garden of Lies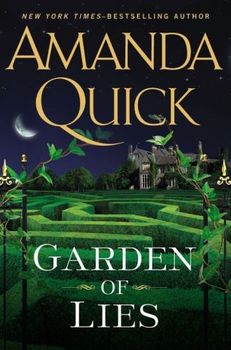 Originally Published April 21, 2015
Recently published March 29, 2016
Paperback, Audio, e-Book
The New York Times bestselling author of Otherwise engaged and The Mystery Woman presents an all-new novel of intrigue and murder set against the backdrop of Victorian London.
The Kern Secretarial Agency provides reliable professional services to its wealthy clientele, and Anne Clifton was one of the finest young women in Ursula Kern's employ. But Miss Clifton has met an untimely end—and Ursula is
convinced it was not due to natural causes.
Bent on justice, Ursula hatches a plan: take Anne's place as stenographer to the reclusive poet Valerie, Lady Fulbrook. There are dark rumors about Lord Fulbrook, and his gloomy mansion in Mapstone Square seems the logical starting point for an undercover investigation.
Archaeologist and adventurer Slater Roxton thinks Mrs. Kern is off her head to meddle in such dangerous business. But if this mysterious widowed beauty insists on stirring the pot, Slater intends to remain close by as they venture into the darker side of polite society and a den of iniquity called the Olympus Club. Together they must reveal the identity of a killer—and to achieve their goal they may need to reveal their deepest secrets to each other as well…
Originally published April 2015 in hardcover by Berkley..
* This site contains affiliate links to products. We may receive a commission for purchases made through these links. Specifically, this site is a participant in the Amazon Services LLC Associates Program, an affiliate advertising program designed to provide a means for website owners to earn advertising fees by advertising and linking to amazon.com, audible.com, and any other website that may be affiliated with Amazon Service LLC Associates Program.