Flash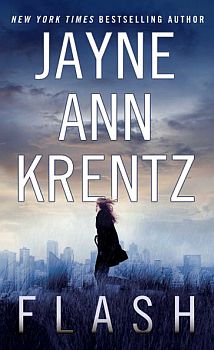 Originally Published October 6, 1998
Recently published August 25, 2020
Mass Market Paperback, Audio, e-Book
A self-made millionaire. A sassy entrepreneur. Their corporate merger might just set the night on fire in this electrifying thriller from perennial bestseller Jayne Ann Krentz.
Olivia Chantry may leave her desk in disarray, but she's a business dynamo—and the success of her Seattle-based company, Light Fantastic, keeps her from dwelling on her crumbled marriage. When Olivia inherits 49 percent of Glow, Inc., her uncle's high-tech lighting firm, she butts heads with the interloper who bagged the other 51 percent: Jasper Sloan, a venture capitalist known as an orderly man with all his ducks in a row.
Right from the start, the so-called partners nearly crash and burn—and can barely contain the sexual energy crackling between them. But when they discover a blackmailer uncovering secrets inside Glow, Olivia and Jasper's steamy joint venture faces the acid test of truth…and a need for absolute trust. For when extortion turns to murder, a union of their minds—and hearts—might be their only chance to stay alive.
"Equal parts romance and suspense" (Publishers Weekly), Flash is yet another exhilarating and steamy thriller from the "queen of the genre" (Kirkus Reviews).
Originally published October 1998 in hardcover; February 2002 in mass market paperback; and September 2010 in eBook.
* This site contains affiliate links to products. We may receive a commission for purchases made through these links. Specifically, this site is a participant in the Amazon Services LLC Associates Program, an affiliate advertising program designed to provide a means for website owners to earn advertising fees by advertising and linking to amazon.com, audible.com, and any other website that may be affiliated with Amazon Service LLC Associates Program.