Family Man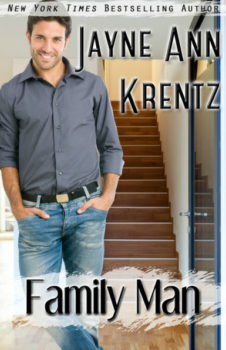 Originally Published April 7, 1992
Recently published November 16, 2013
Paperback, e-Book
A Jayne Ann Krentz Classic. First time in eBook.
Katy Wade has a bright, shiny new life planned for herself. She's ready to quit her job working for the high-powered Gilchrist family and start her own business. There's just one last job to do for the Gilchrists before she will be free — convince Luke Gilchrist to come home, take up his responsibilities as the heir-apparent and save the family firm. But Luke has spent a long time contemplating the pleasures of revenge against the family that made him pay for his father's scandal. As far as he's concerned the Gilchrist empire can sink. But Katy is something new in his world. She intrigues and fascinates him. He's willing to make a deal — one that will put both their hearts on the line.
Originally published April 1992 by Pocket Books.
* This site contains affiliate links to products. We may receive a commission for purchases made through these links. Specifically, this site is a participant in the Amazon Services LLC Associates Program, an affiliate advertising program designed to provide a means for website owners to earn advertising fees by advertising and linking to amazon.com, audible.com, and any other website that may be affiliated with Amazon Service LLC Associates Program.