Deep Waters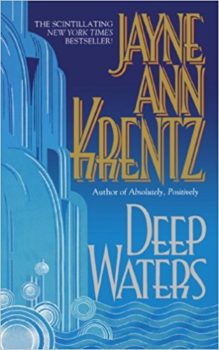 Originally Published February 1, 1997
Recently published June 1, 2003
Hardcover, Paperback, e-Book
Charity Truitt was practicing her breathing and fighting yet another panic attack that made it increasingly clear she was not going to complete the corporate merger between the Truitt department store chain and Loftus Athletic Gear. She was not going to marry Brett Loftus either…Notorious deal maker Elias Winters had changed gears and settled in Whispering Waters Cove. He'd been studying martial arts and Asian philosophy with one burning goal in mind – only to discover that he'd been swept into unknown emotional seas…
Facing crises of career and heart, two of the most powerful corporate figures in the Northwest are now borne by the unpredictable currents of fate to the same small Washington town, and to their respective shops – a bookstore for Charity and a small curiosity shop called Charms and Virtues for Elias. When they meet, the attraction is immediate. But the results may be…murder!
Land speculation is booming in the town – and no one, especially Charity Truitt, believes that Elias Winters has suddenly stopped outswimming the corporate sharks just to run a small business. As Charity and Elias begin a cautious exploration of each other's pasts, hidden agendas, and libidos, they discover one thing they definitely have in common. A martial arts master, he's a novice at relationships; a formidable executive, she's starting in the mail room when it comes to love. And all around them, Sixties-style rebels are clashing with BMW-driving professionals. Then, after two shocking murders, Charity and Elias really join forces to catch a killer – and become next in line for an early demise.
Originally published in hardcover 02/97.
* This site contains affiliate links to products. We may receive a commission for purchases made through these links. Specifically, this site is a participant in the Amazon Services LLC Associates Program, an affiliate advertising program designed to provide a means for website owners to earn advertising fees by advertising and linking to amazon.com, audible.com, and any other website that may be affiliated with Amazon Service LLC Associates Program.