Deception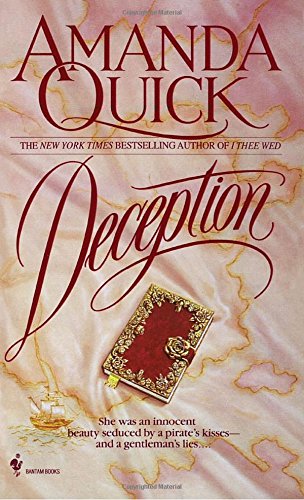 Originally Published April 20, 1993
Recently published December 30, 2009
Paperback, e-Book
Olympia Wingfield, an old maid at twenty-give, was saddled with raising her motherless nephews, although the lovely bluestocking preferred spending every spare minute pursuing her true passion—the study of ancient legends and unearthing clues to long-lost treasure. And then Mr. Jared Chillhurst arrives to tutor her three incorrigible charges. Tall and dark, with chiselled features and long, windswept black hair, he could have walked straight out of a legend of buried treasure and uncharted seas. Too late, Olympia discovers that the enigmatic Mr. Chillhurst is no lowly tutor but the future Earl of Flamecrest, descendant of a notorious buccaneer, and soon Olympia is swept up in a scandalous affair with a dangerous, desirable man who is haunted by old enemies and even older mystery.
Originally published April 1994
* This site contains affiliate links to products. We may receive a commission for purchases made through these links. Specifically, this site is a participant in the Amazon Services LLC Associates Program, an affiliate advertising program designed to provide a means for website owners to earn advertising fees by advertising and linking to amazon.com, audible.com, and any other website that may be affiliated with Amazon Service LLC Associates Program.