Connecting Rooms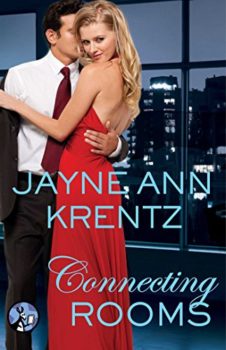 Originally Published May 2, 1995
Recently published January 27, 2014
Star e-Book
Available for the first time as a standalone eBook novella, #1 New York Times bestselling author Jayne Ann Krentz's Connecting Rooms.
Amy Comfort is a real estate agent on Misplaced Island, a quaint, remote town located off the coast of Washington. When she sells an old Victorian manse to the sultry, sexy Owen Sweet, a private investigator relocating from Seattle, sparks fly from the get-go, though both Amy and Owen decidedly ignore their natural chemistry.
Until, that is, Amy enlists Owen's help in looking into her aunt Bernice's fiance Arthur Crabshaw, who Amy suspects is not what he seems. To keep their cover intact, Amy and Owen pretend to be a lovestruck, newly engaged couple, as they travel to Villantry, Washington, to investigate Arthur. When the mystery surrounding Arthur begins to spin out of control, Amy and Owen must trust in each other to stay alive. But, when the lines between their make-believe courtship and reality begin to blur, will the faux-couple end up with something aside from what they had set out to find?
From a bestselling anthology comes the story of two people looking for answers, who happen upon something they never knew was missing…each other.
Originally published May 1995 in mass market paperback as part of the EVERLASTING LOVE anthology and February 1998 in trade paperback as part of the HEART'S DESIRE anthology.
* This site contains affiliate links to products. We may receive a commission for purchases made through these links. Specifically, this site is a participant in the Amazon Services LLC Associates Program, an affiliate advertising program designed to provide a means for website owners to earn advertising fees by advertising and linking to amazon.com, audible.com, and any other website that may be affiliated with Amazon Service LLC Associates Program.